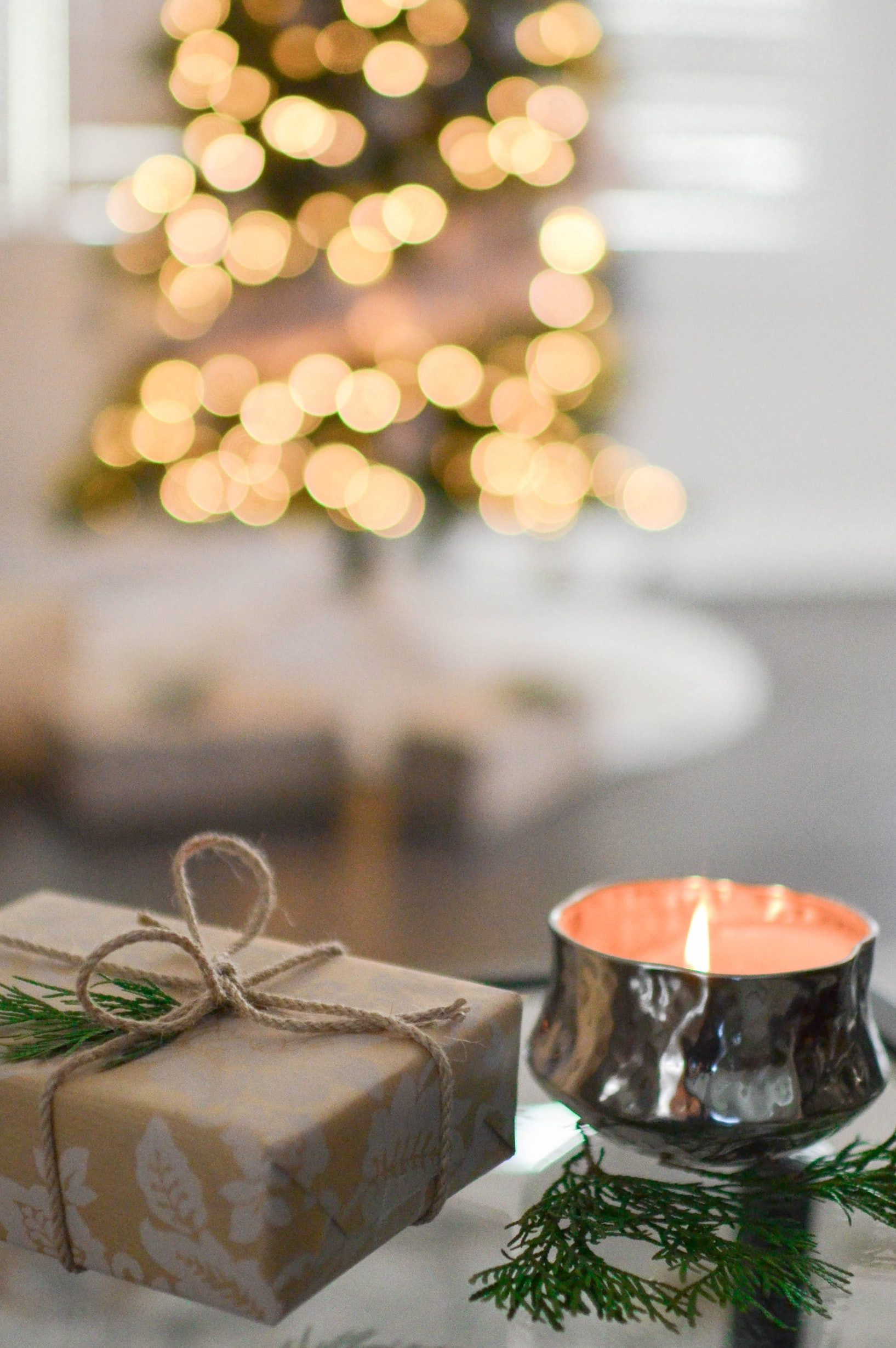 Ahhhh Fall…the time of year where we feel that crisp in the air, also known as: sweater weather, apple picking season and the holidays on the horizon.  
One of my favorite ways to cozy up a space this time of year is by burning a candle at home.  Engaging the senses creates an experience, whether working from home, spending a quiet afternoon solo with my favorite book, a night in with my puppy, or when hosting an intimate dinner party. 
Setting a vibe with music, décor, and the perfect scent is a lovely way to create a memorable evening for guests, or a comforting one for yourself. 
We are all spending so much more time at home these days, a fabulous candle can elevate the cozy factor this time of year.  I am constantly on the lookout for beautiful candles to have around the house, and as I shopped the Galleria for inspiration, I thought I'd share a roundup of candles that are perfect for right now, and into the holiday season.
The holidays this year will undoubtedly be different, however they should not be any less special or comfortable.
Pumpkin Cupcake
This instantly creates a sense of comfort.  I love when guests walk into my home and there is the scent of something freshly baked piping throughout, it is so welcoming!  This 3 wick candle with essential oils of whipped buttercream, Madagascar vanilla, and pumpkin spice would accomplish that.
Mulled Cider
I envision burning this candle during a cozy night in with a super soft sweater and a good book.  This candle has the scent of Ceylon cinnamon, nutmeg, ginger, clove and allspice –   a Fall mix of warming aromas.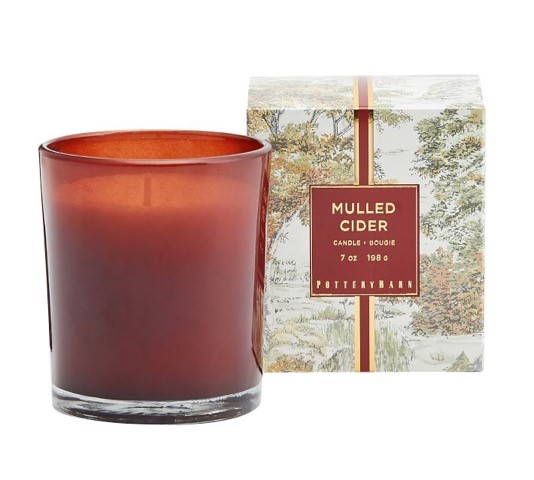 Pottery Barn
The Limited Edition Nest Fragrances Holiday Candle
I plan to burn this candle on repeat throughout the holiday season.  Nest created a beautiful quintessential holiday scent with notes of pomegranate, mandarin orange, pine, cloves, cinnamon and amber.  It comes in four sizes and also makes for the perfect hostess gift this Holiday Season.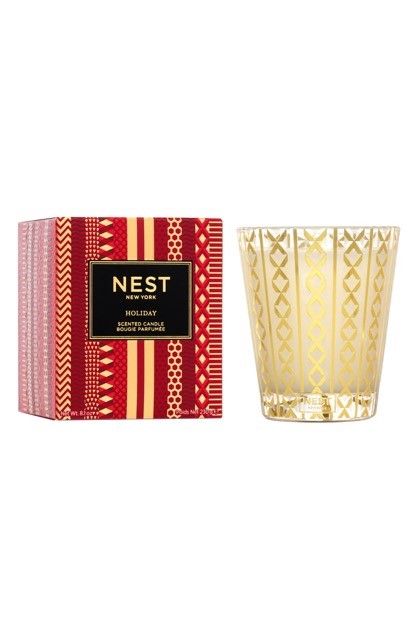 Nordstrom

Thankful
Could there be a more perfect candle to burn on Thanksgiving Day both scent-wise and aesthetically?  With essential oils of fresh picked apple, autumn berries and clove buds – this is a lovely complement to any Thanksgiving feast.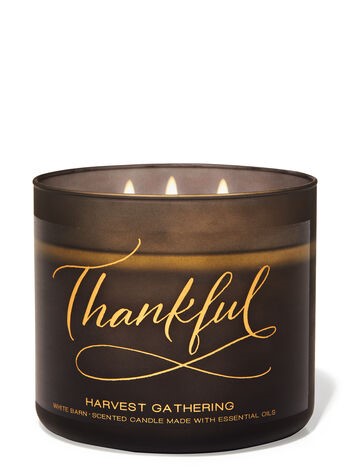 Bath and Body Works
Limited Edition Crushed Candy Cane by Voluspa
There is something about mint and candy cane that is incredibly uplifting.
Bursting with notes of peppermint, sugar cookie and vanilla, I love that these candles are hand-poured and ecologically sound.  This candle comes in several sizes and shapes, however this decorative tin shaped like a peppermint swirl is fun and festive.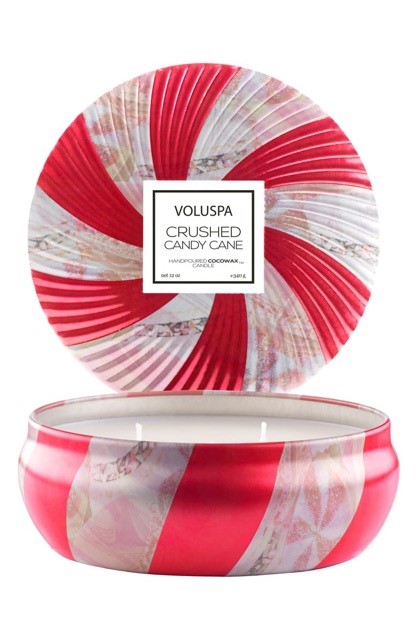 Nordstrom
Salted Caramel Eggnog
Goey caramel, Fresh Sea Salt, dulce leche, sweet whipped cream, just add your favorite eggnog recipe, you have a feast for the senses!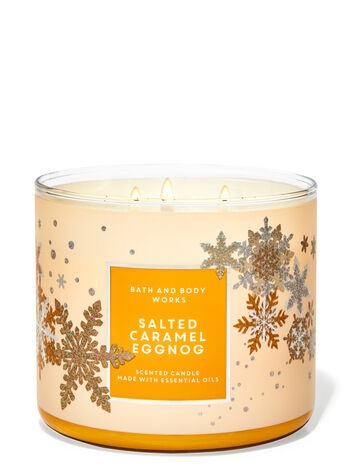 Bath and Body Works
Limited Edition Birch Wood Pine by Nest
A beautiful winter blend of white pine, fir balsam and birchwood with rich musk and amber. Perfect for those chillier winter nights next to a roaring fire and cup of hot cocoa.  Available in a variety of candle sizes and also as a gift set with the matching diffuser.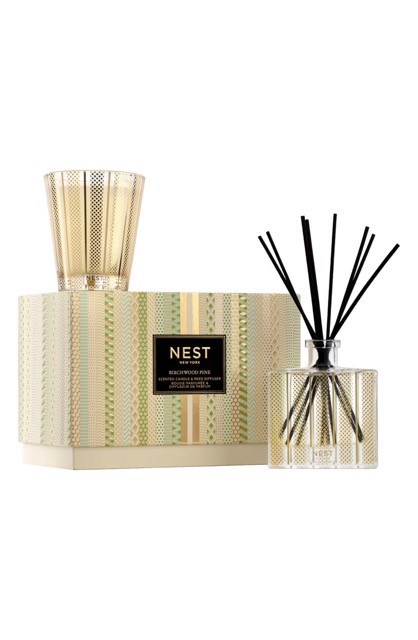 Nordstrom